Bike Service Department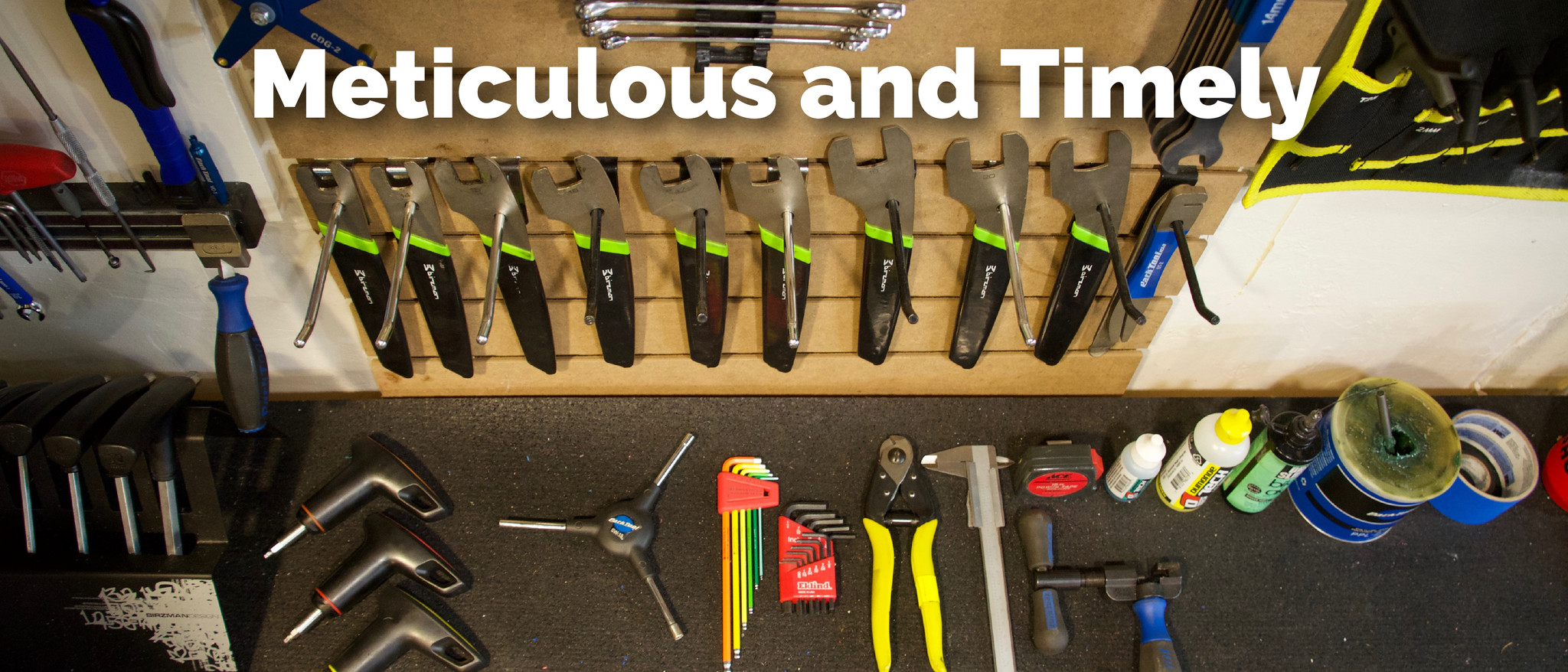 Because that's what it takes. Servicing and repairing today's bicycles is both an art and a science, requiring a special harmony between creative enthusiasm and surgeon like precision. Our dedicated staff is made of United Bicycle Institute certified mechanics that are passionate about the bicycle and offer a level of craftsmanship and attention to detail that your bike deserves. There's no job too big or too small that our service department can't handle.
If you're worried about being without your trusty steed for more than a few hours, feel free to contact us to make a service appointment. Once on the schedule, we can guarantee a one day turn around on repairs and service. ​​
OUR SERVICES
30 Day Tune FREE (with purchase of bike)
Comprehensive tune of bike to bring it back to like new condition, including any suspension or fit adjustments.
Safety Check $45
A basic cleaning and inspection of the bike, making notes of any repairs or adjustments needed for a safe ride.
Level 1 Tune $69
This is the tune your bike needs. Includes a full cleaning of the bike, truing of wheels, shift adjustments, and torque check of all hardware on your bike. We'll take a close look at every inch and provide you with a full report and further service recommendations.
Level 2 Tune $99
The tune your bike wants. Includes a full Level 1 tune as well as removal and deep cleaning of your drive train. Expect it to be sparkling and shifting like new.
Flat Fix $14
Includes new tube and labor (price can fluctuate for non-standard size tubes).
Front Derailleur Cable and Housing $8
Rear Derailleur Cable and Housing $10
Derailleur Adjustment $10
Wheel True $15
Additional $5 charge per new spoke
Sealant Install per Wheel $15
Tubeless stems and conversion sold separately
Brake Bleed $25
Brake pads sold separately
Wash and Clean of Drivetrain $25
Fork Service $45
Includes oil change of lowers
Box Bike for Shipping $85
Cost of shipping sold separately
Receive and Assemble Bike $75
Includes Level 1 Tune
New Bike Build Minimum $75
Charge varies depending on intricacies of build